High-Quality Indoor and Outdoor Banners by A.G.E. Graphics
Yard signs and banners by A.G.E. Graphics are a fast and affordable option for stunning graphics on high-quality material for your most important messages. With more than 25 years of experience in printing and shipping nationwide, we are America's premier yard sign manufacturer with the most competitive pricing in the industry. Vinyl banners are one of the most popular choices for signage because of their professional appearance, versatility, and many other beneficial characteristics.Latex or UV digitally printed, 1 or 1,000, our banners are your best value for indoor or outdoor use. Printed with the same, high quality inks as we use on our other products, these banners will hold up to the elements. Printed at up to 1440 DPI, our digitally printed banners look as good at 2' as they do at 50'. We can supply plain edges, hemmed, with or without grommets, your choice. Our standard product is 13 oz. Vinyl Scrim stock, but we can offer other types (may require upcharge). Whatever your needs, we can suggest the best solution or if you already have a preference, go with that. This is the perfect choice to advertise your business, product, political campaign, or special event for all to see!
Benefits of Vinyl Banners and Signs
Vinyl banners are the best value for indoor and outdoor use, and we're confident you won't find vinyl banners as high-quality as ours at such an affordable price and that is why we offer a price match guarantee. We produce everything from high-volume orders of one-color banners to large-format or extremely high-resolution banners for trade shows or events. No matter what your need is, you'll get all the same benefits, including:
Versatility – Since they are lightweight, even larger size banners are safe for outdoor hanging. They are also flexible making them easy to store in between use.
Affordability – Vinyl banners are a much more cost-effective marketing option than print publications, TV, or radio advertising.
Durability –They're weather-resistant and ideal for situations where signs will be left out for extended periods of time and exposed to rain, snow, or sun.
Fast Turnarounds - When you have a deadline, vinyl banners are the perfect choice because of the quick turnaround and shorter production time.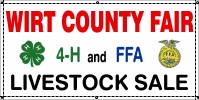 More than 101 square feet - Untrimmed, no hems or grommets
48" Tall Maximum height x 150' Long
More than 101 square feet - Includes Hems with Grommets every 2 feet
100 square feet or less - Includes Hems with Grommets every 2 feet
Step #1  Fill out Quote Request form, send us an email at agegraphics@gmail.com or just give us a call at 740-989-0006. A real human being will answer the phone during business hours and help you with your questions.   The more complete your information, the more accurate our quote will be. You can attach your artwork and or tell us what you want printed.
Step #2   Watch your email for your proof our quote. Normally within a few hours during business hours. Be sure to watch your Spam and Junk mail folders. Many times our clients miss our replies because they caught in email filters.
Step #3   Look over your proof and quote making sure you see the layout and pricing. When you are happy with the design and pricing, use the link provided with your proof and pay thru our secure site. Your payment information is never stored. You will receive yourt Paid Receipt immediately and your Invoice will be sent shortly thereafter. Your order will then ship within a few days.
Tips to Consider for Banners
High-quality vinyl banners from A.G.E. Graphics are the smart choice for nationwide ordering and a guarantee you're getting the best price. If you haven't designed signage before, we're here to help, and there are a few essential details to consider, such as:
Size - We don't recommend anything smaller than 24" x 36". However, if this is for outdoor use, you'll want to go bigger. More prominent signs offer better visibility from farther away.
Colors – Colors work together in magical ways. But the wrong colors can make signs challenging to read or unattractive. Make sure your color scheme garners the most attention.
Copy – Short and sweet is always the best route. Especially if you're capturing eyes driving by that can't slow down.
Font – This is as important as the length of the copy and the colors. Keep it easy on the eyes!
20 Years of Satisfied Customers!
You won't find this high of quality vinyl banners for less anywhere. Whether you need a high volume of 1-color banners to use only once, large format banners, or extremely high-resolution, full-color trade show banners to look your best at the show, we have a custom vinyl banner that will work for you.
"I had ordered yard signs for our county fair for several years. Last year I saw they also did banners. We had ordered from a local print shop prior to this. I decided to give them a try. Their banners were far beyond the quality we had received before....bright, brilliant colors, heavy duty, great finish!! They were very friendly and helpful as well as fast service. I would not hesitate to recommend A G E Graphics"
Ellen K. - 12/13/2017 - 5 Star Review
Order Your High-Quality Vinyl Banners Today
At A.G.E. Graphics, we make ordering vinyl banners nationwide easy with convenient online quote requests that include a free proof of your final product. You won't pay anything until you're completely satisfied with the proof. Our three-step ordering process removes the hassle and long wait times to ensure you get your product in time for your big event. Contact us today to learn more.