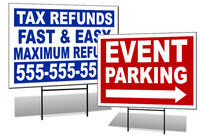 Custom Yard Signs
At A.G.E. Graphics, each Label, Decal, Yard Sign, Magnet and Banner is custom tailored to your needs at no additional cost. Our processes are flexible, efficient and fast.
Here, you can find cheap yard signs that work!
Our focus is on manufacturing cheap yard signs, banners, labels, and magnets using the most cost effective methods that technology and experience allows without sacrificing quality. Our signs look as good up close and out of the box as they do along the road.
Get a Free Quote Now
Campaign Signs, Real Estate Signs, Event Signs & More
If you are in the market for campaign or political yard signs, real estate bandit signs, event signs, large banners, bumper stickers, cosmetic/product labels, or convention graphics at wholesale prices, give A.G.E. Graphics a call or request an online quote today! Our response will be quick, complete and competitive. We won't leave you waiting for an answer. We believe if you wanted a quote tomorrow, would have asked tomorrow! Please browse our site and then drop us a note. If we don't reply within a few hours during business hours, better try again, because we simply did not receive it.
THANK OUR HEALTH CARE WORKERS
Say thanks to our dedicated health care professionals who are working tirelessly to keep us healthy.
Click here for signs.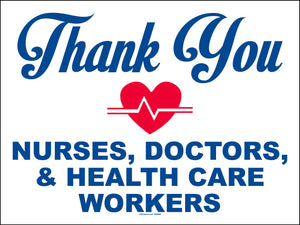 We're committed to offering BETTER PRODUCTS at GREAT PRICES with OUTSTANDING CUSTOMER SERVICE
Our commitment to our customers is complete. Whether it's answering e-mails quickly, advising clients about artwork or producing and shipping your products quickly, our customers are always our top priority.
Testimonials
"My yard signs came in today and they look great. You guys did a great job and so fast! I just approved the proof on Sunday night and I got my signs today (Wednesday). That is nothing short of miraculous. Your pricing was the best around too so I was not sure what your quality and service would be like but it was the best too.

Thanks!!!"

Cliff Reid
"I am very happy with my recent purchase! It was easy to order, fast service (only took 4 days from the day I ordered my signs to the day they were delivered to my front door), best prices you will find online, and the signs looked great when I got them! I will recommend using A.G.E. Graphics to all my friends and I will use them again in the future!"

Randy Summers Jr
"Great service, quality products! Very happy. Ordered late Thursday and they were delivered to my house Monday around noon! Ordered yard signs, car magnets and bumper stickers at the best price around! I highly recommend A.G.E. Graphics!"

April McCall White